AT SPRING GARDEN, TREATMENT PLANS ARE INDIVIDUALLY TAILORED TO ADDRESS EACH OF OUR CLIENT'S UNIQUE NEEDS. TO DO THIS, WE INCORPORATE A NUMBER OF WELL-ESTABLISHED THEORETICAL APPROACHES. THIS INCLUDES THE PROFESSIONS "GOLD STANDARD" COGNITIVE BEHAVIORAL THERAPY (CBT)
The basic premise of Congnitive-Behavioral Therapy is that the thoughts one chooses directly affect one's feelings and drives one's behaviours. The only control that we have is what we choose to pay attention to. What we attend to determines the thoughts we create (we are not our thoughts) and each of our thoughts are linked to an emotion. What we attend to then drives our behaviors. The thoughts we choose are powerful. Our thoughts have the power to make us sick or well, to make life enjoyable or a living hell. At Spring Garden Counseling, we can help you move your attention and modify your thoughts to ones that lead to wellness, confidence and satisfaction.
When working with couples, at Spring Garden Counseling Inc., we often use an effective variation of cognitive-behavioral therapy called choice theory. The basic premise of this theory is notion that the only person whose behavior you can control is you. All we can give another person is information. In addition, all one does from birth to death is to choose our thoughts and behaviors (our feelings result from our thoughts).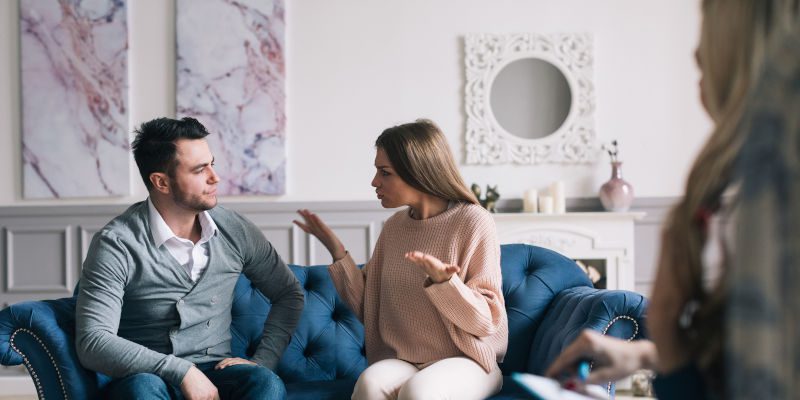 Using choice theory, one gives up the illusion of control and the notion that "not only do I know what behaviors are right for me; I know what is right for you." Once the couple adopts choice theory, the counselor helps the couple develop healthy relationship habits they can use to form a healthier, more intimate, and, ultimately, more satisfying relationship.
Are you and your partner having a difficult time seeing eye to eye on issues? Do you feel like your marriage has been lost to children, careers, and the stressors of everyday life? Are you and your spouse considering divorce? Wherever you are in the relationship cycle, choice theory can help you realign your relationship, grow closer to your partner, and feel more fulfilled with your partner on a long-term basis.
If you are located in the Greensboro, North Carolina area and want to improve your relationship with your partner, choice theory can provide you with a strong foundation. Contact us today to learn more or to set up your first couple's counseling session.
Common Questions We Receive About CBT and Choice Theory
At Spring Garden Counseling Inc., we use several types of proven therapy methods to best help our clients, two of which include Cognitive Behavioral Therapy (CBT) and Choice Theory. Below, we have answered a few common questions we receive about both of these therapy modalities.
Display NONE
What is CBT?
CBT is built upon the idea that the thoughts you choose directly affect your feelings while also driving your behaviors. CBT also promotes that you only have control over what you pay attention to in life.
Why are thoughts so powerful?
The thoughts you have on a daily basis can directly affect your feelings and behaviors. For this reason, when you change your thoughts, you can essentially change your life and the direction you are heading in.
What is choice theory?
Choice theory is a type of therapy built upon the idea that the only person's behavior you can control is your own. All you can do is give another person information.
Do you use Choice Theory during couples counseling?
Yes! We often rely on Choice Theory when counseling couples. After helping couples adopt Choice Theory, we help both parties develop healthy relationship habits they can rely on to form a healthier, more intimate, and more satisfying relationship.
How do I set up an appointment?
We would be happy to tell you more about CBT or Choice Theory and how either of these forms of therapy could benefit you and your situation in life. For more information or to set up your next counseling appointment, contact us today.